Broad-Spectrum Hemp CBD
All CBD is not created equally. We work with growers that emphasize organic and regenerative farming to source the highest quality, lowest planet-impact CBD.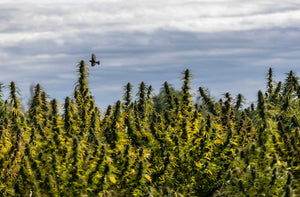 Regeneratively Grown
The broad spectrum CBD used in our products is USDA Certified Organic. The hemp plants are grown, harvested, and processed by local, Regenerative Organic Certified farms, which meet the highest standards in the world for soil health, animal welfare, and farmworker fairness. This unique approach reduces carbon emissions, encourages biodiversity, yields the highest quality genetics, and is free from pesticides.
Tested for Purity & Quality
All of our products are regularly third-party tested for purity and quality. Our COAs (Certificates of Analysis) are available on each product page.
Climb higher, feel just like yourself.
Cannabidiol (CBD) is a non-intoxicating compound in cannabis derived from the hemp plant. Both CBD and THC have the exact same molecular structure, but a slight difference in how the atoms are arranged accounts for the differing effects on your body. While THC has intoxicating effects, CBD does not.
Questions?
Browse the answers to some of our most frequently asked questions to learn more about CBD and our products.